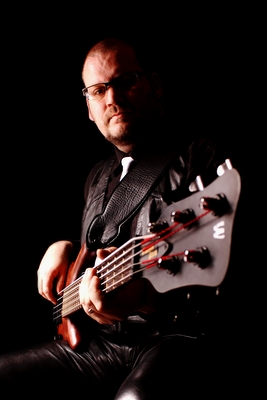 Born 1973 in Rotherham, England, and staunchly proud of his roots. Kris started out with his love of music really early learning piano in the late 70's (and doing so-so at it), and flute, clarinet and various other instruments in the 80's. It wasn't until the early 90's however until he picked up a bass guitar and fumbled through his first few songs.
In April 1997, he joined his first "proper band" after many false starts, a band known at the time as Telefunken with the most memorable thing about the band being a furry TV logo. Telefunken became Joe Lazarus, recorded some stuff, played some gigs, did so-so and split up. Going the same way as many bands then.

In 1999 after a few months of non-starters he chose a Rotherham based rock band as his next stop on his career. It was a long stop, and through two name changes and three line-up changes he spent over 8 years there and did his first overseas gigs with a few tours taking in a lot of Central and Northern Europe along the way... but never Wales. Sorry Wales.
Boredom struck and he bailed in January 2008. He doesn't speak of (or to) them any more...
A change of direction was needed, but the problem was his beloved Classic Rock Society friends knew him as a hard rock and metal bassist and not as a prog rock bassist who is quite capable of some rather sweet sounding basslines so he has to be a little bit underhand in advertising his services and placed the following advert on the Classic Rock Society website:
Bassist seeks musicians
We have a bassist in South Yorkshire seeking musicians or an existing Progressive Rock / Progressive Metal band in South Yorkshire, West Yorkshire, Nottinghamshire, Derbyshire or anywhere within reason. Has own transport and pro quality gear. A very technical player who has toured, recorded, and has around 500 gigs experience including some very large venues. Has a good knowledge of the industry and many good contacts within the business.
Contact through the webmaster...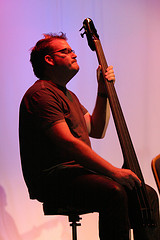 some Guy from Leeds responded (who was rather shocked to find out who it was)... and the rest, as they say, is history.
Kris is a true bassist at heart - he can't play a 6 string guitar - but unusually for a bassist can read sheet music (when he can be bothered). Kris adds Mannings' bottom end into the songs with his Warwick Thumb 5 string bass. You can also see him from time to tme using a Ned Steinberger WAV upright stick bass for the Manning Akoustik band sets. He is purely a finger-style player and describes plectrums as fake and gay.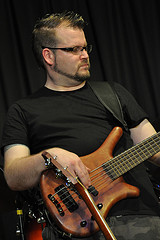 Kris is by nature a very fast rock bassist able to keep up with those 190bpm rock basslines - which when slowed down to prog rock speeds makes for a 10 minute song. Same number of notes - more time to play them in!
When not playing bass with Manning, Kris is a keen Astronomer (hence always being able to tell fans just how long the light from Antares has travelled to greet them) and enjoys blogging (he has blogged for over 5 years now), retro games, Nintendo, and photography and flickr (including his 365 days of self portraits project which is now almost on day 800 at the time of writing - Feb 2010).

When not playing bass with Manning he is an electrical engineer specialising in design and construction of fire alarm systems.

He often listens to The Beach Boys, Renaissance, Genesis, R.E.M., IQ, Jadis, Kate Bush and generally has very eclectic musical tastes.
Kris uses:
Warwick Thumb 5 string (2000 special edition)
Ned Steinberger NS WAV bass 4 string
Kris exclusively uses and endorses Gallien & Krueger bass amplification and uses a RB700 amplifier with custom speakers and Backline 15 cabinet with custom 650 watt sub speaker.
A healthy diet of Coffee, Crisps and Biscuits

Kris's Links