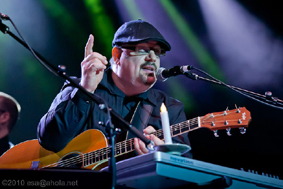 Guy Manning formed his first band when he was still at school, bringing together members of the school orchestra and other more basic musicians to play complex 20 minute epics!
Sometime (much) later, Guy was the founding member of two Leeds based bands in the 1980s, Let's Eat! and Bailey's Return. He was also recruited in 1987 to be the keyboards player (along with Julie King) in art-rock Leeds band Through the Looking Glass. This band split up a year later and a more pop based offshoot, KingGlass, emerged and continued on for a further year.

The rest of the original line-up walked away with "Through the Loo".
Manning and local keyboardist/vocalist Andy Tillison joined forces in an early unsigned band called Gold Frankincense & Disk Drive. The band's final line-up included David Albone on drums and a guest spot from Van Der Graaf Generator organ player, Hugh Banton. One piece by this line-up, "A Gap in the Night", was later included on the Parallel or 90 Degrees album "The Corner of My Room" before being reworked for the second album by The Tangent (see later).
Tillison and Manning also recorded the album "No More Travelling Chess" at this time, which consisted of a set of covers of material by Peter Hammill plus a couple of original pieces. This album was first released as a mail order cassette item (before an augumented and remastered version was eventually released by Cyclops Records in 2001 under the band name of Parallel or 90 Degrees).
Tillison and Manning then formally formed the new band, Parallel or 90 Degrees with Sam Baine also on keyboards, but Guy was soon to leave to work abroad.
Guy has gone on to write, record and release his own albums, five on the Cyclops label and three more, "A Matter Of Life & Death (The Journal of Abel Mann)", "One Small Step..." and "Anser's Tree", for United States label ProgRock Records.

The ProgRock Records album covers were created by noted graphic arts designer, Ed Unitsky.

His ninth release, "Songs From The Bilston House" (2007), was released on the Festival Music (F2) label as were the follow ups, the appropriately named "Number Ten" (2009), "Charlestown" (2012) and "Margaret's Children" (2011) which also featured an Ed Unitsky cover.
Andy Tillison has guested on several of the early albums, while other guests have included Martin Orford (IQ), Ian 'Walter' Fairbairn (Hedgehog Pie & Jack the Lad), Steve Dundon (Mick Abrahams Band & Molly Bloom), Angela Gordon (Mostly Autumn), Marek Arnold (Toxic Smile & Seven steps to the green door), Leon Camfield (Tinyfish), Chlöe Herrington (Knifeworld, Chrome Hoof), John Young (Lifesigns, Asia).
Whilst all this was happening, plans for a solo album by Andy Tillison transformed into the first release by The Tangent,
"The Music That Died Alone" (2003).

This initial line-up included Guy Manning, Sam Baine plus Roine Stolt, Jonas Reingold and Zoltan Csorsz (from The Flower Kings) and David Jackson (from Van der Graaf Generator). Other Tangent members since, have included Theo Travis, Jaime Salazar, Krister Jonsson, Jakko M. Jakszyk, Jonathan Barrett, Paul Burgess, Dan Mash, Tony Latham, Luke Machin, the entire 'Beardfish' band and Michael Gilbourne.

Guy announced his formal departure from the The Tangent in May 2010.
In all, Guy played on five studio and one live album by The Tangent although he did add a cameo set of acoustic guitar parts to 2013's "Le Sacre du Travail"
Manning and Tillison also teamed up as fictional Italian band, La Voce Del Vento, to provide two long pieces for the Colossus Project Discs (The Spaghetti Epics #1 and #2)
Manning also provided an unreleased track for KINECTIONS, the US ProgDay festival support album.
MANNING - THE BAND(S)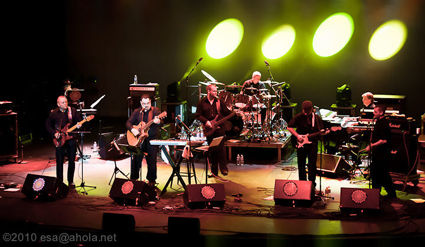 In April 2008, news appeared on the Classic Rock Society website stating that Manning had recruited a band consisting of Kevin Currie,
Kris Hudson-Lee, Julie King,
Danny Rhodes and Phil Wilkes.

This band debuted (minus Julie King), at the Classic Rock Society's Tribute to Rob Leighton concert in June 2008.
Since then, drummers have come and gone!

Steve Dundon, who has featured on all the latter Manning albums, (on loan from his own band Molly Bloom), agreed to formerly join up and to complete the fantastic 8 piece band line-up!
The Manning band performs in two varieties, ELEKTRIK (the full symphonic rock band) and AKOUSTIK (a cut down more simple and 'unplugged' version).

These band incarnations play differing sets of Guy Manning's material...well, there IS a lot to choose from!

In Jan 2014, Guy announced that the live 'band' was to retire.
Guy will continue to write/record material plus look at other Projects to get involved in.
Solo or smaller line up shows were to be organised.

In fact, the AKOUSTIK Trio (GuyM, JulieK & Dave Million) played at the inaugural Resonance Festival in London and then flew out to do a show in Chicago, USA in 2014.

<<< See the BIOGRAPHY Page for current MANNING line-up!

MANNING & THE UNITED PROGRESSIVE FRATERNITY
Then in early 2014, came Guys involvement with the UNITED PROGRESSIVE FRATERNITY.
A project formed from the ashes of Australian band UNITOPIA with help from Guy, Dan Mash (The Tangent, Maschine) and Marek Arnold (Seven Steps to the Green Door, Toxic Smile, Cyril)
A, debut album "Fall In Love With the World" was released in October 2014 to great critical repsonse and a short Promotional Tour undertaken (including Summers End Festival 2014).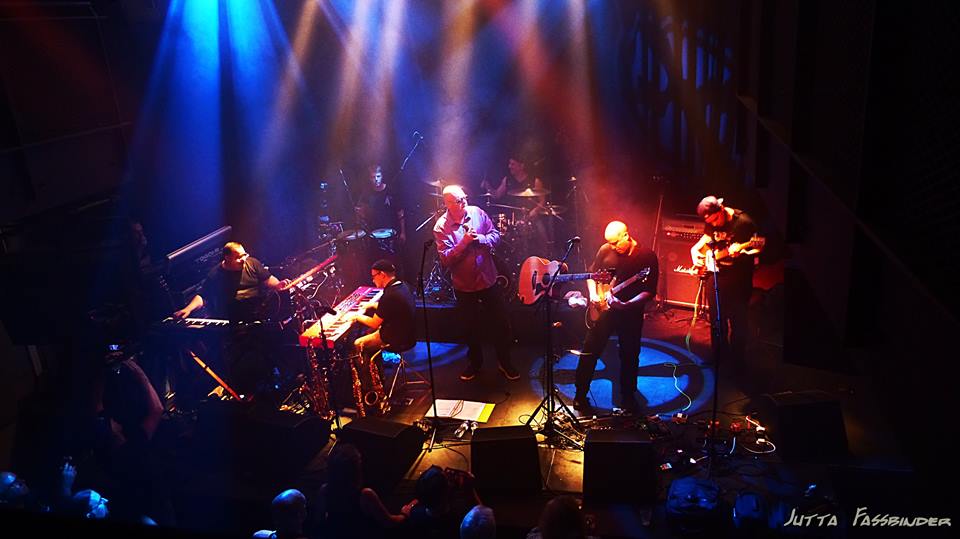 GUY EQUIPMENT (2014 / 2015)
Martin D28 Acoustic Guitar
Taylor Acoustic Guitar
Nord Stage 2 Compact 73 Keyboard
Roland Fantom G8 Keyboard
Jupiter 50 Keyboard
Korg Kronos X61 Keyboard

Guy's Other Links
A Life in Music (an amusing look back at Guys musical history!)