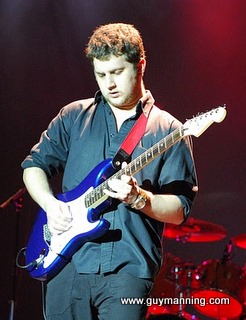 Born in Oxford in 1986, Chris was raised by an artistic family becoming the latest in a line of musicians, painters and dancers. He was brought up in the very rural Cotswolds and spent most of his early life in remote, secluded villages on the borders of Oxfordshire and Gloucestershire.
Having received piano tuition from the age of 4, Chris was actively involved in the music department at his secondary school in Gloucestershire and soon took up drum lessons. The next inevitable step was to join a band and at 12 years old Chris was the drummer for the only band in school. Despite lapping up the attention of teenagers, Chris soon felt disenchanted with sitting behind a monolith of percussion at the back end of the stage, and started playing the guitar. He initially began playing on his Dad's 30 year old Yamaha SG35, which he would 'borrow' for the next 8 years.
Although initially influenced by bands like Radiohead and Nirvana, Chris found a special home for himself with Pink Floyd, Rush, and Led Zeppelin. Chris soon formed a progressive rock band, mainly covering Pink Floyd classics, and developed a modest following in the sleepy hills of Gloucestershire.
By 17 Chris had got himself a job as a session guitarist in London for an 'up and coming' pop singer. Getting the gig in a 'friend-of-a-friend-of-a-friend' type way Chris soon got his first taste of playing gigs around London, laying down tracks in the studio, and even enjoyed his first festival performance at Guilfest '04.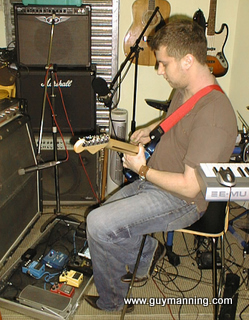 Fast-forward a couple of years and Chris had moved to Leeds to study Electronic and Electrical Engineering. By this time Chris had developed an eclectic musical taste, enjoying the likes of AC/DC, Tower of Power, Michael McDonald, Pat Metheny, Genesis and...Phil Collins(!). He formed a Hard Rock band, Dead Leg, with two former school-friends who also happened the live in the city. The band gigged 2 or 3 times a month for 3 years in venues up and down the country and enjoyed a reputation for tight musicianship, animated eyebrows, and a fun time. Dead Leg disbanded in 2009 due to work commitments leaving Chris without a band for the first time in 11 years.
Shortly, after Dead Leg disbanded Chris responded to an online advertisement for a guitar player with a penchant for Prog Rock and the rest, as they say, is history!
Chris plays:

Fender Telecaster
Fender Stratocaster
Ibanez RG270
Ibanez EX Series
Simon & Patrick Luthier Acoustic
Chris uses:

H/H V-S Musician Amplifier
Marshall 1960A Cabinet
Boss CS-3
Ibanez CP9
Boss SD-1
Electro-Harmonix Big Muff
Boss CE-5
Dunlop Wah-Wah
Rocktron Hush Pedal
Ernie Ball Volume
Alesis Midiverb II Digital Processor
Note: Chris normally uses Guys' Fender Performer Combo with an additonal Marshall 10" Bass speaker at his MANNING gigs