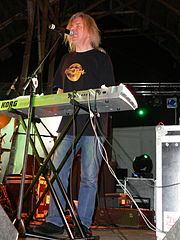 John Young spent his early years at the Liverpool Cathedral where he was classically trained on the keyboard and voice. His first bands were mainly semi-pro jazz rock bands, and he played in these into the mid 1980s.

His first major break came in 1985 when he auditioned and became part of Uli Jon Roth's Band (ex-Scorpions). After the World Tour, Young spent his time doing studio and session work with artists as diverse as Steeleye Span and Bon Jovi. He formed a band with Jon Camp (Renaissance) which signed to Warner Bros, but failed to produce any material before the project was disbanded.

John went on to play with the MTV band in London and during this time he met John Wetton who asked him to join Asia for two European tours. Shortly after that he joined Paul Rodgers and Kenny Jones in a very short lived band called The Law. They played a solitary show at the Bowl in Milton Keynes with Bryan Adams and ZZ Top.

John joined Bonnie Tyler in the mid 1990s and has since worked with her all over the world. In 2001, John joined the Scorpions for a world tour of their CD Acoustica. 2001 saw him co-writing the Fish album Fellini Days with John Wesley and also appearing on the resulting live album Fellini Nights. John Young has also worked as part of the re-generated Greenslade appearing on the albums Large Afternoon and Live 2001. (Ed. This was where Guy first met john, as he supported Greenslade at the CRS gig on that live tour)
In 2002, he formed his own band and released albums Life Underground and Significance. The John Young Band still continues to play and has a fairly fluid line-up depending on the availability of its various members.
John as worked with Jon Anderson of Yes. The first product of that union saw Jon Anderson touring Europe and playing the song "Sooner (Than Later)", a track co-penned with Young.
His most recent work has seen him as keyboard player with The Strawbs on their November/December 2010 Canada/UK tour, alongside Dave Cousins, Dave Lambert, Chas Cronk, and Tony Fernandez.
Although things have been relatively quiet on the JYB front a limited number of gigs have/will take place at the end of 2012 and during 2013. In the meantime work continues on a new John Young Band album and is likely to include several tracks first played during recent gigs, including "Different". The new JYB album is hoped to be released sometime in 2013.
Just to ensure that the pressure was never off, John also completed an album of instrumental music. "Financial Meltdown" continues the series of albums in the vain of "political Agenda and "Scientific Breakthrough". Music from these album are often used on various TV productions both on satellite and terrestrial TV channels.
During the last two years John Young has been working hard in conjunction with Nick Beggs (Steven Wilson Band), Frosty Beedle (Cutting Crew) and Steve Rispin (Sound Engineer - Asia) on a new Prog Rock orientated project. The "Lifesigns" project has already roused interest in many circles and the Band has been quickly signed to Esoteric Records. It is planned that the Lifesigns album will be released in early 2013. As well as the core band members the Lifesigns project also contains guest contributions from Steve Hackett (Genesis), Jakko Jakszyk (Jakszyk Fripp & Collins), Thijs van Leer (Focus), Robin Boult (Howard Jones,Fish).
John has a Cameo appearance on "The Root, the Leaf & the Bone" providing a short but memorable Organ solo on "Old School"