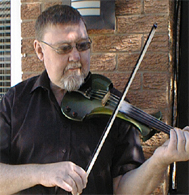 Ian 'Walter' Fairbairn was born on 28 August 1953 and brought up in the North East of England. He developed his musical talent whilst still at school, inspired by his contemporaries Dave Richardson (Boys of the Lough) and concertina genius Alistair Anderson. He was soon singing and playing in local groups such as Trimrigg before joining the successful band Hedgehog Pie and then the Lindisfarne spin-off band Jack the Lad.
He has toured extensively in the UK and Europe, playing with a wide variety of bands and artists. His musical career has included performances at Cambridge,Edinburgh and Reading Festivals, as well as appearances on the The Old Grey Whistle Test, BBC Radio One In Concert and Folk on Two.
Ian joined Aiken's Drum some twenty-two years ago as a stand-in and, despite his better judgement, he has been the longest serving non-member ever. Since adding his considerable talent and versatility to the band, he has become master of the surprise instrumental break! Ian continues to play with other bands and has appeared on many recordings, mainly in the folk arena.
Ian has been a long term provider of Fiddle parts for various Guy Manning albums and has also appeared as part of the live line-up.
Ian's own words:-
" Like many of my generation, my first musical efforts involved wrestling with my elder brother's horrible Rossetti guitar, trying to imitate the pop instrumentals of the era — The Shadows and The Ventures have a lot to answer for!
When I moved up to Wallsend Grammar School, I was press-ganged into the school Folk Song Society basically because I could play an instrument! The standards, however, were high, being based on the talents of older pupils Dave Richardson (later of Boys of The Lough) and concertina virtuoso Alistair Anderson. I soon found myself learning my trade alongside Dave's late-lamented younger brother Titch (also destined for The Boys of The Lough). My earliest memory of performing in public is playing 5-string banjo at a church fete with Titch somewhere in Howdon-on-Tyne.
Sometime later Stu Luckley came to the Grammar and he and I formed a duo called Trimrigg. Much to my mother's disgust, I spent much of my school career playing the thriving folk scene, mostly around the coastal towns of Tynemouth, Cullercoats and Whitley Bay, with Trimrigg. Working with Stu helped to broaden my horizons. He was always keen to diversify and to embellish the standard folk club fodder from the likes of Ewan McColl and the Dubliners, with stuff from Ralph McTell, The Humblebums, Incredible String Band, etc.etc.etc....
In time the line-up expanded to include Stu's girlfriend Margi. While this further enhanced the repertoire to include stuff like Bessie Smith blues, it unfortunately meant I had to travel to gigs in the back of the minivan!
Meanwhile, south of the river, legendary folky lunatics Hedgehog Pie* were looking for a replacement for departed mandolin ace Andy Seagrove, and decided to replace him with an entire band, absorbing Trimrigg into their ranks in 1971.
I helped spread Hedgehogs' brand of raw musical bedlam for nearly 2 years, travelling as widely as our day jobs would allow. This included my first performance on national radio (Folk on 2), a week at Edinburgh Festival with Silly Wizard, and my first venture on to Cambridge Festival main stage. We were also regular visitors to Leeds and Doncaster in the days when you could visit a different Leeds folk club every night for a month!
I joined the professional ranks when Phil Murray and I joined Lindisfarne spin-off band Jack the Lad on a free transfer from Hedgehogs. They in turn worked on, recruiting Dave Burland for a while before finally reverting to what they always were — The Doonan Family Band. Stu in turn went on to produce great stuff with Sunderland's Bob Fox.
Jack the Lad carried on the Lindisfarne tradition of exceptional live entertainment. We toured extensively throughout Britain and Europe, making the most of the thriving live music scene in the 70's. We appeared at all of the major venues in this country from Theatre Royal Drury Lane to Glasgow Apollo and every college and university in between. We recorded 2 albums for the forward thinking Charisma label, sharing the office (and the Nellie Dean pub) with the likes of Genesis, Van der Graph Generator and Bert Jansch. One further album (my personal favourite) was recorded on the United Artists label but UA never really supported the band the way Charisma had. Touring is expensive!
Inevitably, the lack of commercial success took its toll on Jack the Lad (and many of the other great bands of the era), and a lucrative offer to re-form Lindisfarne proved to be the final straw. The last real JtL gig was at Redcar Coatham Bowl, July 31 1977 (several reunions have been engineered, the last culminating in an appearance at Skagen festival in Denmark in 1993).
Amongst my fondest memories from this era are two appearances at Reading Festival, doing the Old Grey Whistle Test with blues legend Freddie King, and doing a live 10 minute mime on Radio One's "In Concert" that had the BBC engineers in serious fits of panic!
In 1978 I was coaxed back out of hiding by Bev Williams who wanted me to play guitar with his award winning country band — Midnight Flyer. This didn't last long (I couldn't stand his driving) but I have played with them on and off ever since.
I seem to have spent most of my 20 years in retirement "depping," or acting as 12th man, sitting in with loads of bands, and this was how I first encountered John Birkby's Aiken's Drum. I answered a desperate plea from Jeremy Wolstenholme to play with him and some bloke by the name of Birkby at The Mansion in Roundhay. It wasn't very flattering to be told that they couldn't find anybody else, but I did it anyway. I seem to remember arriving home a bit shell shocked after that gig, having spent all night trying to make myself heard over that huge voice and booming Martin D35, nearly all in Eb or C#. In fact I still don't feel like I've got used to it!
In the intervening 20 years I have played with literally hundreds of duos, trios and bands including Paul Buckley, Chris Newman, Nick Strutt, Roger Knowles, Mike Chapman, Tony Wilson, Brian Golbey, Alistair Russell, Gordon Tyrall, Hot Pot Belly Band, Witches Bane, Four Horseman, Ray Band, Boxcar Willie, Sons of the Freemen, Scarlet Heights and of course AIKEN'S DRUM. In those 20 years Aiken's Drum hasn't changed much really; personnel have come and gone (including me for a while) but John and his Martin are still at it, as popular as ever.
Influences/Heroes: Hank Marvin, Martin Carthy, Dave Swarbrick, Barney McKenna, Vasaar Clements, Jerry Reed, Roy Buchanan, Richard Thompson, Jerry Donahue, Ry Cooder, Tony Rice.
Recordings include: Tony Capstick, The Buskers, Mike Harding, Guy Manning, Tom Robinson, Tony Wilson, Ewan Carruthers, Gordon Tyrall, Alan Taylor, Scarlet Heights and now Aiken's Drum."
Reference
* Hedgehog Pie were the result of the flourishing folk revival in northern England and the attempts to extend the electric folk movement in the region. They matured rapidly into a promising and highly proficient outfit and although the group failed to achieve mainstream recognition, they still retain a local and cult following in the context of northern folk music.

Ian answers questions about all things MANNING during the 2013 "Root" Sessions <READ ME>