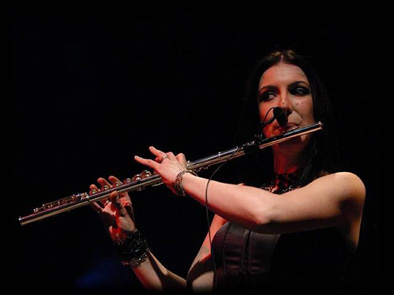 "I was once asked, 'so it all began with one of those plastic recorders, then?', I immediately asked in reply if I could pinch that for the new draft of my biography as I'd been struggling to make a start!
I was encouraged by my dear Grandfather, Philip Goldthorpe, in all things musical. Some of my earliest memories are giving tea parties where I would entertain my guests; plastic, stuffed and imaginary alike, with recitals on my plastic Aulos recorder, works including Annie's Song and a medley of Christmas carols, which I played throughout the year.
At King Edward VI, Retford, flute lessons were considered a natural progression from playing recorders and so I set off on a 'mostly classical' route through the grades and attended North Nottinghamshire Music Centre, where over the next 5 years I was lucky enough to play in various ensembles, symphony orchestras, concert bands and smaller groups like wind octets and flute quintets. It was about this time that Mark 'McKinty' Gordon began getting me organised and driving me to concerts - some things never change!
I particularly enjoyed playing Renaissance and Baroque music and it was not long before I came across and was instantly inspired by David Munrow and The Early Music Consort of London. Whilst studying for my A-levels and teaching flute and recorders, (zipping around town and the villages on my purple Yamaha RD250 in all weathers), I teamed up with organist, Michael Cowgill and cellist, Paul Coggles to form the Redforde Early Music Consort. We played and sang music from the court of King Henry VIII and other popular Renaissance and Baroque recorder works, our concerts often in aid of church organ restoration and other local, worthy causes.
Also while studying for my A-levels I was introduced through a pupil to The Broadstone Morrismen. The time I spent playing with them introduced me to the English folk traditions, the pagan festivals and real ale. All very 'Songs From The Wood'! There were crazy sessions in the pub after the dancing, where English, Irish and Scottish tunes and songs were shared. It was my first experience of music being passed on from memory rather than being written and read.
In 1993, on the first day of my BSc in Media Technology, I arrived on my little motorbike in the pouring Yorkshire rain and was kindly assisted in finding my way to class by the very gallant Andy Smith. We became special friends and studied together for the next four years before forming our concert lighting company, Pyramid Lighting.
It was as lighting engineer that I first met Bryan and Mostly Autumn. I was instantly captured by the music and Bryan's vision for the future of the band. Mark and I also had a love of camping and the outdoors and Bryan shared with us some of the secrets of The Lakes and the Lion Inn at Blakey Ridge, places now close to our hearts.
When the original flute player was unable to attend the studio session, I played on 'Heroes Never Die'. For a time I performed this live and doubled-up whistles with Kev Gibbons to recreate the sound on the album. Eventually I was struggling to juggle both Pyramid and MA so left the lighting business to give more time to the band.
In May 2000, as part-time assistant-promoter for Fibbers, York, I was fortunate to host dinner for Blackmore's Night prior to their performance at The Grand Opera House in York. I found in Ritchie a fellow admirer of David Munrow and renaissance music. And so the story goes; Bryan, Heather and I then toured throughout UK and Europe for as support act for Blackmore's Night. A kind of MA-acoustic, our set included acoustic arrangements of Mostly Autumn songs, traditional folk tunes and a couple of my own pieces; 'Which Wood?' and the recorder duet 'Meridon's Caravan'.
In the meantime, MA had signed to Classic Rock Legends. Part of the profile-raising of the band included a tour of Germany in December 2001 supporting Uriah Heep. This was a wonderful month of gigs and gluwein where we made lots of friends and new fans.
Working around the increasingly busy Mostly Autumn schedule, I managed a few guest appearances; with The Accidental Tourists in support to my all-time-faves All About Eve; Andi Aitchison's The Fisherkings; and studio sessions for the extremely talented Julia Jenkins on her album 'Shine' and for multi-instrumental-progger Guy Manning.
In 2002, a dream came true for all the band when we performed in America. This trip was part our longest tour to date, taking in Europe, USA and UK over three months.
In 2003, three years after first stepping out on to the York Grand Opera House stage, opening for Blackmore's Night, I found myself there once again. This time it was in front of a string quartet and choir and with special guest, Troy Donockley, for what was to become Mostly Autumn's second live DVD.
By late 2004 I had a desire to re-visit the 'classical' playing of my school days and before too long, by twist of fate, came across the York based flute ensemble Garland Of Flutes. It is with Louisa, Rosalind and Felicity that I have the opportunity to 'give something back' with my music, performing for a variety of local charities and worthy causes.
In 2005 Heather and I began to air our 'dressing-room project', acoustic duo, Odin Dragonfly. This adventure has so far taken us around the UK and to The Netherlands as guests to Fish, (on whose acoustic live album 'Communion' to two of us also appear with our special friend Anne-Marie Helder) and on a successful headline tour around the UK. At the time of writing (July 2007), we are about to enter the final stages of production of our debut album 'Offerings' which has been recorded by our close friend and band member, Chris Johnson, and is to be mixed and mastered by John Spence.
Performing with the duo gave me the confidence to brave the stage alone, which has added another dimension to my performing and song-writing.
I live in York with my husband, Mark and my two beautiful cats, Pendle and Hexham.

These days my recorders are ebony - lucky-girl indeed!"
Angie left Mostly Autumn in 2008 to look after her daughter and does gigs around York when she is able!