The following afternoon was the Proghead gig, which on a personal note, highlighted the amazing talents of the band, MANNING.
Guy Manning has cleverly surrounded himself with a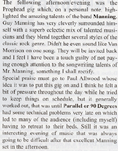 superb electric mix of talented musicians and they blend together several style of the classic rock genre.Didn't he even sound like Van Morrison on one song. They will be invited back and I feel I have been a touch guilty of not paying enough attention to the songwriting talents of Mr. Manning, something I shall rectify.
Special praise must go to Paul Allwood whose idea it was to put this gig on, and I think he felt a bit of pressure throughout the day while he tried to keep things on schedule, but it generally worked out.......still, it was an interesting evening of music that was always going to be difficult after the excellent MANNING set in the afternoon.



DON 'T QUOTE JOHN!
Just a quick note to than everyone for the superb Rick Wakeman gig and "Evening Of The Proghead". Rick never disappoints but the Proghead was always going to be a bit of an unknown quantity. I thought Manning were superb and deserve another full length slot sometime, nice to see the Mega Talented Guy Manning with his full band, with some great melodic and inventive prog.

Cheers John Bennett, Lincoln
..I concur with you, Manning were the best band of the day for me, totally innovative, every band member individually talented and they will be
back very soon . MH

DOUBLE TOPS!


Thanks to all concerned for two excellent evenings (and day). Rick Wakeman was, as ever, a great and entertaining performance which I thoroughly enjoyed.
I went to Proghead day with an open mind as the only band that I was familiar with was MANNING, having both their CDs and Guys' Solo. As you might expect I really enjoyed seeing them live and thought they put on an excellent set.
---