Windows On The World
Interview by Stephanie Sollow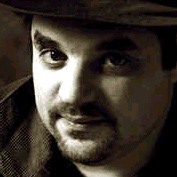 One can tell that Guy Manning's passion is music. No sooner did his most recent release, The View From My Window come out, that he began work on his next project, A Matter Of Life & Death - The Journal Of Abel Mann. And in the midst of all that, have time to work on the first Tangent project The Music That Died Alone, and is currently working with Andy Tillison (Parallel Or 90 Degrees/The Tangent/Manning guest) on yet another project, a track for the The Spaghetti Western compilation. And a second album from The Tangent, The World We Drive Through. I pulled Manning away from his busy schedule long enough get answers to a few questions about all these various projects.
With CD booklet in hand, the CD itself playing -- or maybe just playing through my mind, since it made such an impression on me that I no longer remember which -- and knowing that the artwork used on a Manning release is never without subtext, I asked if there was some meaning to the Philips logo being in the "view from the window" shot or was it just there (or is it the view from his window?)...? A question to which Manning blithely replied, "No the Philips logo was just there and I used it." Of course, this question led to my asking about the Middle-Eastern imagery on the cover, and how he chose that motif, as I noticed in the credits that some of the artwork was his.
"As you know by now the artwork has recurring conceit that I use, namely that the front cover is a single image. It has been that way since the Cure (usually with no other text on it at all ... no name or track info).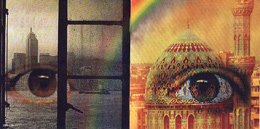 "With View…, the main 'theme' of the title track was EAST meets WEST... how we are 'seen' and we see the Third World etc. The cover represents that 'view' … NY and Baghdad joined together in the mind's eye." To make the meaning clear, the New York side of the artwork is on the left or "west" of the CD booklet. Manning adds, "The View From My Window is in actuality not a physical thing but the mind's eye view, the mind's window, the mind's way of looking at the world and making sense of it."
Since "View..." deals with the east's perception of the west and visa versa, did Manning have any thoughts he wanted to share about the current situation in Iraq and Afghanistan? "No one likes a dictator and I'm glad Saddam has gone BUT ... the US/UK planning of the whole sorry affair is a disgrace. This 'conflict' just goes on and on, with casualties littering the paths of progress, innocents in the firing line, fuelling hatred across the World and with suicide atrocities stepping up activity. If you are going to step in, then do it RIGHT! A definitive and SHORT-lived campaign and then get on with the important bit of rebuilding homes & confidences. As ever, we promise but we simply don't deliver (This is the main theme of the song 'The View From My Window').
View… contains "only" six tracks, including the 6 part suite "Suite: Dreams," but Manning puts a lot of diversity into those six. I reviewed the album (which can be read here) and gave it high marks – deservedly so – so I wanted a little background on the tracks themselves.
"As a generalisation, all the tracks are about perception/reality.
"'Phase (The Opening & the Widening Sky)': A couple are running away from something and their hope is to drive off into the sunset and escape it. It is a sort of mini 'Film Noir.' Mysterious... and my hope is the listener will make up the plot lines for themselves. What are they running from, where are they going, who are they, etc." ("Phase" previously appeared in an earlier form as a bonus track on the limited edition version of Tall Stories For Small Children).
"'View From My Window': East meets west ... (from the eastern pov, I suppose) ... Native American, Middle Eastern, East Indian, West Coast African, Imperialism !!! isn't a wonderful thing (sic)! As I said earlier, do we ever deliver what we promise?
"'The Rut': Probably the most auto-biographical on this album: Was written for my father (who sadly passed away a couple of years ago) and myself. He was a World Class bridge player (Captain of England, etc.) but in the end had to turn his back on this 'dream' to pay the bills and bring up his family.
"So, here I am, with my hopes and dreams ... my music does not pay the bills either and so I spend a huge proportion of my time working in a comparatively boring job so that I can sneak away and create in the evenings/weekends The rut is about being stuck on that treadmill.
"'After The (Tears In The) Rain': Is the sequel to the Cascade track but with a sinister twist. In Cascade, the couple break up and he walks away leaving her. In this track, some point later, he realises he has made a huge mistake and becomes obsessed with getting her back. So here we see him stalking her, locked in his own fantasy of how things should be.
"'Blue Girl': My take on the 'Miss Haversham' storyline. I knew this girl and I did not treat her well at all, I'm ashamed to say. So this song was my way of 'paying up dues' and is song for her. It is supposed to be sad and cloistered ... images of cobwebs and stale air, etc.
"'Suite: Dreams': About Dreaming and the sub-conscious really. It starts with a man looking back on his life and then comparing it with his child's life as he/she falls asleep with him watching. 'Into Sleep' [section] and the 'monsters' and 'fantasy' are unleashed! Through via the 'Sandman' into Deep Sleep 'REM' [the two instrumental sections] and back out the other side to wake again (until the next night repeats the cycle again)."
Dreams and dreaming is a theme that has played a role in many of Manning's past releases; why is that? "Don't know," Manning says, I imagine with a shrug. "So do sea and water themes, too ... must be something Freudian about that. I suppose we all have to find inspiration and magic out there and latch onto things of strength and beauty as well as of imagination."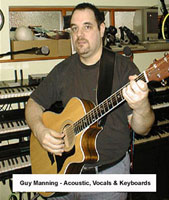 As mentioned at the start, Manning is already working on his next album. I asked him if he could talk to us little bit more about this release, a concept based on a character from an earlier album.
"Yes, a concept following on from the tragic character of Abel Mann on Tall Stories… We left Abel (in the song "In My Life"), sat at a cleric desk writing his thoughts and story down for posterity in Purgatory before being allowed to 'move on.' So the new album A Matter Of Life & Death - The Journal Of Abel Mann is what was written, Abel's story.

"This album is still in the recording stage, as I decided to scrap the long piece this time (as I felt it was simply not ready or strong enough) and gone for a couple of shorter pieces."
The running comment in Manning's bio is "fame remained elusive," which we asked Manning about when I interviewed him in 2001. Three years later, I asked him if he would be satisfied with his musical career if "fame remains elusive," but interest from the prog rock community remains steady? "I will have to be! I can't see me suddenly being Number One. I just want more people to listen and enjoy the music. The only problem is that to do that (legally) means parting with money (as I can't just give them away) ... this enables the CDs to be pressed, etc. CYCLOPS for example is not able to support this long term anymore (as downloading / apathy etc., has taken sales, etc.). Promotion is the KEY here ... get heard, get recommended, get bought and then do another one! I have had little label support in this area really."
And with the number of releases anticipated by Cyclops for 2004 (Manning's home since first releasing Tall Stories For Small Children in 1999), the label will not be able to afford to release A Matter… at all, so Manning is on the hunt for a new label. How has the hunt been so far? "We have had a response from MELLOW Records, but I am also going to send a press pack out to several other leads and hope to secure a good home for any new albums."
Perhaps because of his association with the Cyclops label, Manning is considered a progressive rock artist, but does he see himself that way, or more as a singer/songwriter in no set genre? "Yes, I'm not sure what I am actually! Progressive? Yes, I suppose so, as I do adopt the long epic format, odd time changes, mind mind confusing allegories and concepts, etc. But also Folk and jazz, too… I mean everything gets thrown in. If I like what I am writing ... I just go with the flow."
Do his co-workers at his self-described "boring job" understand his musical drive, or do they just shake their heads and turn up the latest pop flavor? "Funnily, I have sold a few CDs to work colleagues who have asked for others as a result ... but a prophet is never recognised in his own home!"
The other project Manning is working on is The Spaghetti Western, a joint project between COLOSSUS magazine and MUSEA Records. Italian film maker Sergio Leone is associated with the so-called Spaghetti Western, films that have a distinct style that is often referenced, if not imitated. The Spaghetti Western album is based on six chapters Once Upon a Time in the West, filmed by Leone in 1968. As Manning explains, "I was given the Chapter about Harmonica (the mysterious stranger played by Charles Bronson in the film). As I had had a great time working with Andy (Tillison) on the Tangent album, I asked him if he'd help out and so we sat down and devised a 22 minute piece. A limitation set upon the project (as a whole) was that it had to be done in the style of 70's Italian progressive bands, i.e. PFM, Banco, Il Balchetto Di Bronzo, etc., so no samples ... just good old fashioned sounds organ, Mellotron, Moog, piano, etc.
"I really like the piece, which goes through many name checks to bands/styles, etc. It will be out June 2004 (I think)."
You will find the Manning/Tillison piece under the moniker La Voce Del Vento, and the track "Harmonica" is track 1 on disc 2. Other artists on the compilation are Finland's Haikara, Italy's Randone, Tilion and Taproban, and Holland's Trion.

The new album from The Tangent should be out for their appearance at ProgSfest in October, but Manning will not be part of the touring group. "For mainly financial and logistical reasons," he explains, "the Tangent lineup had to be kept to the bare minimum for these few dates and so it will comprise of only 5 players (Andy, Sam, Roine, Jonas and Zoltan)." Aside from having worked on "A Gap In The Night," a track he and Tillison recorded 11 years ago, which will now serve as a prequel of sorts to "In Darkest Dreams," what is Manning's participation with the new Tangent album? "Andy is still composing the songs for the new Tangent album and will no doubt want to discuss parts/ideas with me when he reaches the most appropriate moment to do so. So I will be patient!"
Earlier this year, we ran a "Who Would You Like To See At NEARFest 2004" poll and included Guy Manning as one of the options. Of course, this was purely a biased poll, in that I (as publisher/editor) listed bands that I wanted to see. Nevertheless, Manning topped our poll. So I asked him, "Would you be interested in attending a US festival if asked?"
"I would love to play a festival, it's just that no one has ever asked. Maybe you could have a word?" [Consider this the start of PW's Manning for NF '05 campaign – ed.]
Since he won't be on tour with Tangent, and there are vague words about Manning (the band) touring in autumn, I wondered if we might really see him on the road this year. "Touring is tricky as the players with other gigs need to get out their diaries ... hopefully a longer and more widespread set of dates will materialise for Nov time. If I can get commitment from the 'band' then we can play anywhere!!"
The question that every artist gets asked (whether they answer or not) is who they would love to record with, living or dead, if they could and why. Well, I asked this of Manning; he said, "So many, so many but to cut it right down … PETER GABRIEL - A true visionary and inspiration. I think we have a lot in common in our 'ear' for music and approach (He says arrogantly). IAN ANDERSON - This man is responsible for me wanting to write songs ... and what a flautist! YES - but I think I'd just stand and gawp (I mean come on ... me playing along next to Steve Howe !??!)
"However, I'm not sure we should ever meet our heroes ... what happens if they turn out to be human?"
More thoughts to ponder as we await A Matter Of Life & Death - The Journal Of Abel Mann, and the various projects up Manning's sleeve.
For more information on Guy Manning and his various musical projects, check out his fabulous looking website (which had me exclaim: Oh wow, Guy! What a great looking website... this has a sleeker, slicker look and Guy reply "Yes, my daughter did it ... great isn't it!") at www.guymanning.com.
Discography
Tall Stories For Small Children (1999)
The Cure (2000)
Cascade (2001)
The Ragged Curtain (2003)
The View From My Window (2003)
A Matter Of Life & Death - The Journey Of Abel Mann (expected 2004)
[Stephanie also interviewed Guy in 2001.]